CONTEST RESULTS
We are super excited to have teamed up with Huion to do a tablet giveaway. They make wonderful tablets for artists that we use every day. This past September ya'll submitted some incredible art for the chance to win one of three tablets. Here are some of our favorite entries…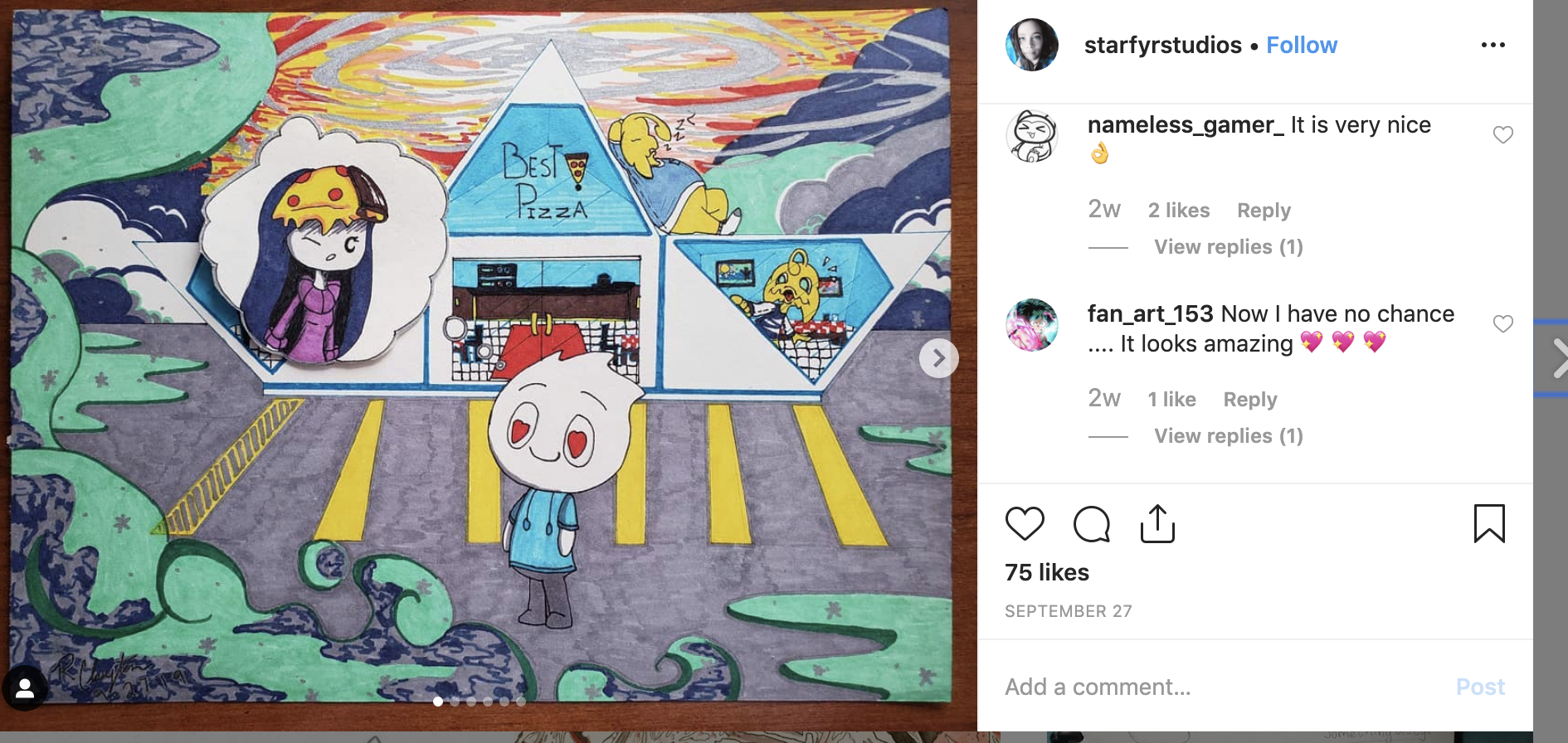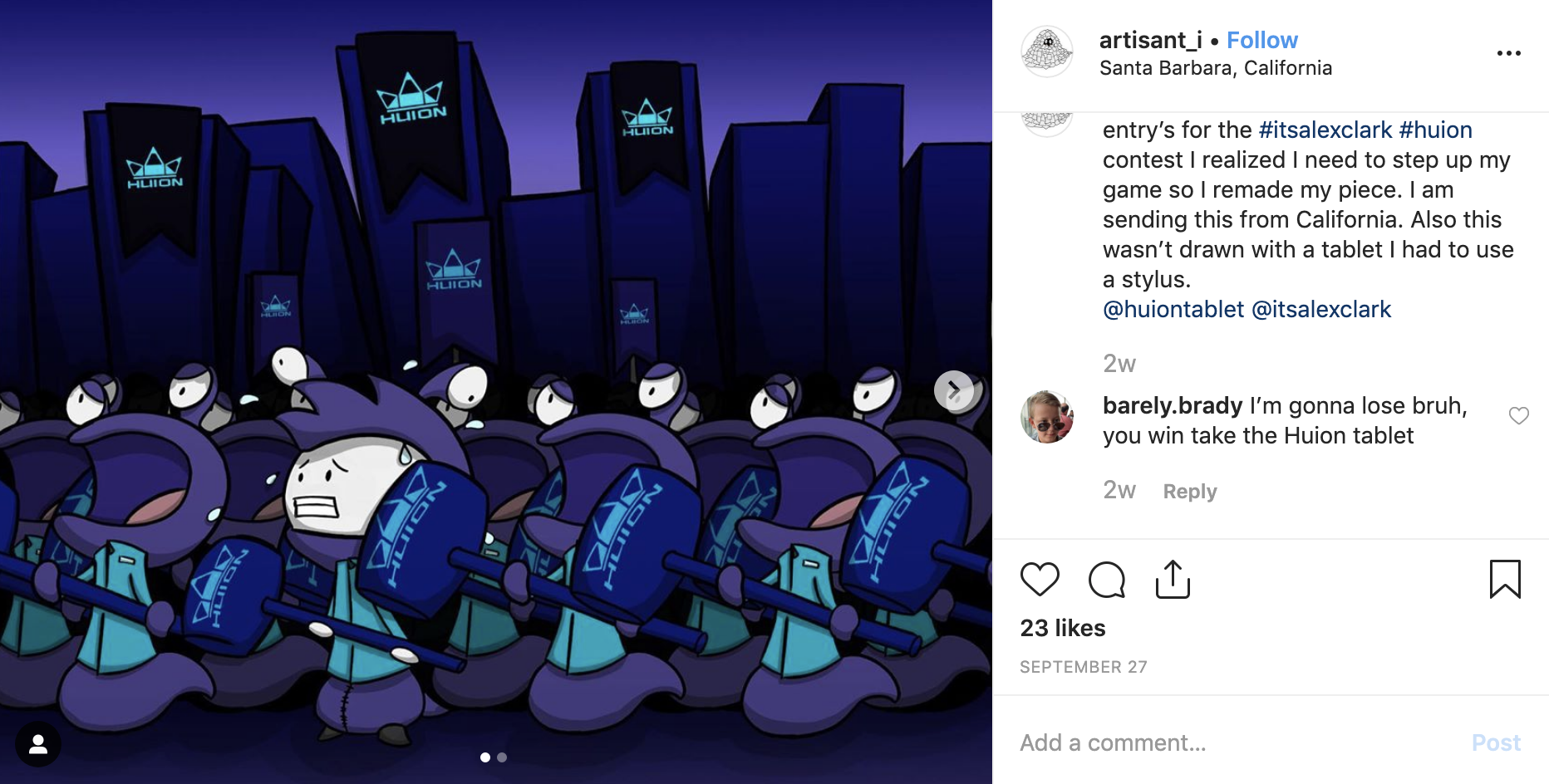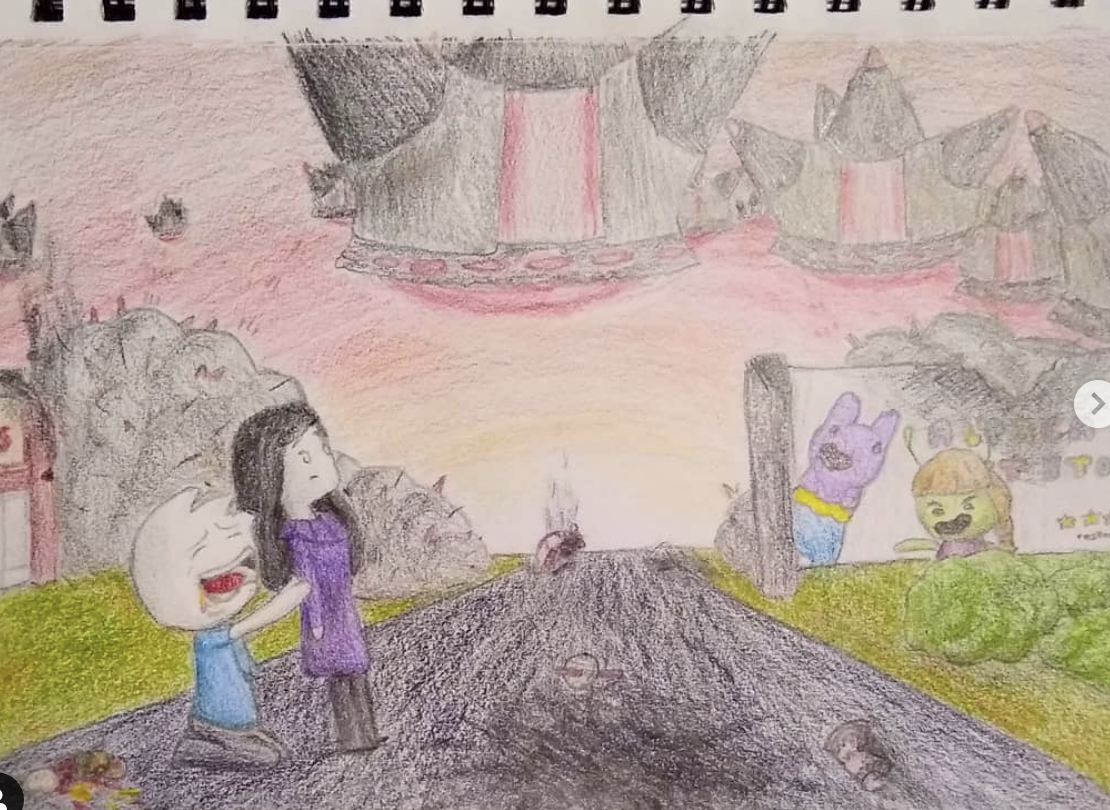 WINNERS
To pick the 3 winners for this contest we picked our favorite 40 submissions and put their names into a hat… the names were drawn at random and this is who won:
1st Place - @artisanti
PRIZE: Huion H50P

2nd Place - @starfyrstudios
PRIZE: Huion H640P

3rd Place - @_bevin11_
PRIZE: Huion H640P
Congrats to the winners and thank you to everyone who entered… we will be having another contest like this very soon. If you are a prize winner, we will contact you shortly about how to claim your prize. Winners may also email sayhello@itsalexclark.com with the subject "I won the huion contest".
What TABLET DO YOU RECOMMEND?
When you are just starting out grab whatever tablet you can afford off ebay or facebook market place (the first tablet I had was $30 on craigslist). This is because when you are first starting out you are still finding out if you like art. You don't want to grab this giant expensive thing and then never end up using it. After you get a cheap starter tablet (and realize how you you love it) then I have some tips for getting your next tablet.
The most important thing to keep in mind is you can never have a drawing area that is too big. Tablets with tiny drawing areas often limit your abilities as an artist. Think of it like drawing a picture on a post-it note vs drawing a picture on a giant piece of paper. The extra room gives you more flexibility with your art. With that in mind, I would say you want a tablet with a drawing area of at least 5 x 8 inches. Anything smaller than that and it will start to feel too much like a post-it.
For tablets like the ones we use at the studio I highly reccommend Huion products. Huion is a major supporter of the channel and a huge fan of what we do at Alex Clark Studios. As sponsors of the channel, they enable us to do weekly animations, and also do recurring tablet giveaways for you, the fans. Below are two great cost-effective options for starter tablets. Also, as a little perk, check out the discount codes below. :)
Alex
P.S. If you want something a little more advanced, I really love their Kamvas Pro line. The Kamvas Pro 16 or 22 are both good pen displays.
Touch Ring & 12 programmable keys

Tilt function with 8192 levels of pen pressure sensitivity

Battery-free pen

Compatible with Windows, Mac, and Android

8 spare pen nibs
4 programmable keys

92 levels of pen pressure sensitivity

Battery-free pen

Compatible with Windows, Mac, and Android
WHAT ANIMATION SOFTWARE DO YOU USE?
At Alex Clark Studios we definitely have a software favorite. Before I tell you what it is here is a quick tip for beginners: If you are just getting started I'd say use whatever software you can get your hands on. At the beginning, you'll be learning the basics and pretty much all software will give you the same tools you need. With that in mind, here are a few of the basic features you'll want to look for:
A timeline view

Onion skinning (this allows you to see several frames in your timeline at once)
Pretty much all software that is made for animation will have these two items. Now that's out of the way let me tell you about our favorite software. Without question, we prefer Toon Boom Harmony. Toon Boom is an Industry leader in the animation world and creates powerful software that is completely unmatched. We reccommend it over other similar programs because of its wide array of features that no other program can match. It has a camera that operates in 3d space, artwork deformers to bend and move your art, bitmap painting, and compositing tools. These are just a few examples of the many features other programs lack. With that in mind, there is a bit of a learning curve to the program. If you need help learning the software I would check out youtube tutorials by: Jon Taylor, Stylus Rumble, or Onion Skins. They all make great content to learn from and they are the same tutorials we learned from at the studio. The software comes at a premium price, but they do have incredibly fair student pricing.
WHAT about IPAD/ANDROID SOFTWARE?
I get asked this question a lot so whenever a new app pops up I check it out to see what it can do. While there have been tons of great attempts at animation software for the ipad/android; I have yet to find one that is an absolute perfect solution. Their is one app though that comes very close to being perfect. That app, by a wide margin, is called Rough Animator. It's the only app I've found that includes all the resources you need. Another bonus is that it's only $5.00. It has onion skinning, layers, keyframing, as a starter app it will definitely get you going. While it cannot do all the fancy things that a full computer program can - it is the best option that I have found on tablets/phones.